AMSTERDAM, Sept. 16, 2017 PRNewswire/ -- IBC2017, the world's leading Media, Entertainment and Technology show, is now being held in Amsterdam, Netherlands for five days, from 15th to 19th September, at RAI Exhibition and Convention Centre. Over 55,000 industry professionals from more than 170 countries converge to network, discuss and debate across a broad range of topics including OTT, 4K, HDR, Streaming VOD, Cloud Hosting, Ultra HD, VR and IPTV.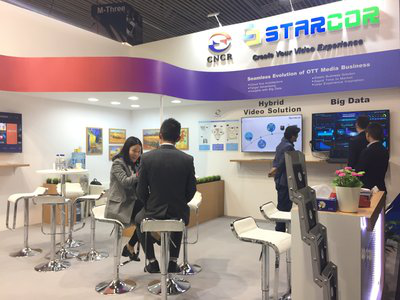 Starcor, a major international supplier of video solution and video big data service for global customers, showcased its newest Hybrid Video Solution (HVS) for IPTV, OTT and DVB business at Booth Stand C29 (Hall 5). Visitors will get to see how Starcor help customers seeking a smooth transition to IP-centric infrastructure to enhance service offerings and to reach more devices by leveraging existing legacy infrastructure and powerful big data analytic engine. Up to now, Starcor's HVS and video big data solution have been successfully deployed both domestically and overseas.
About Hybrid Video Solution (HVS)
Starcor Hybrid Video Solution offers a unified platform for convergent business of IPTV, OTT and DVB. This cost-effective solution provide fixable monetization modules for operators which enables users to enjoy advanced television services across devices including EPG, Live TV, PPV, Time-shift TV, Catch-up TV and VOD etc. anywhere, at any time and on any device. Up to now, Starcor's HVS has been successfully deployed in CNTV, MANGO TV, TOPWAY TV and more, which are highly regarded by operators in China. With Starcor's HVS, endeavoring to promote development and evolution of media convergence technology, operators have eliminated technical barrier of convergent service expansion.
About Starcor
Starcor provides customizable end-to-end over the top (OTT)/IPTV solutions and services for provincial and national level operators internationally. It offers technical support, content strategy, and extensive collaboration services; turnkey OTT, IPTV, and DVB+OTT solutions; authentication, authorization, and accounting systems; content delivery network systems; CMS management systems; and terminals. The company was founded in 2009 and is based inChengdu, China with domestic and international branches and offices in Shenzhen, Hunan,Guangxi, Shandong, Fujian, Cambodia, and the Russian Federation among others. As ofFebruary 18, 2016, Starcor operates as a subsidiary of Hangzhou CNCR Information Technology Co., Ltd.